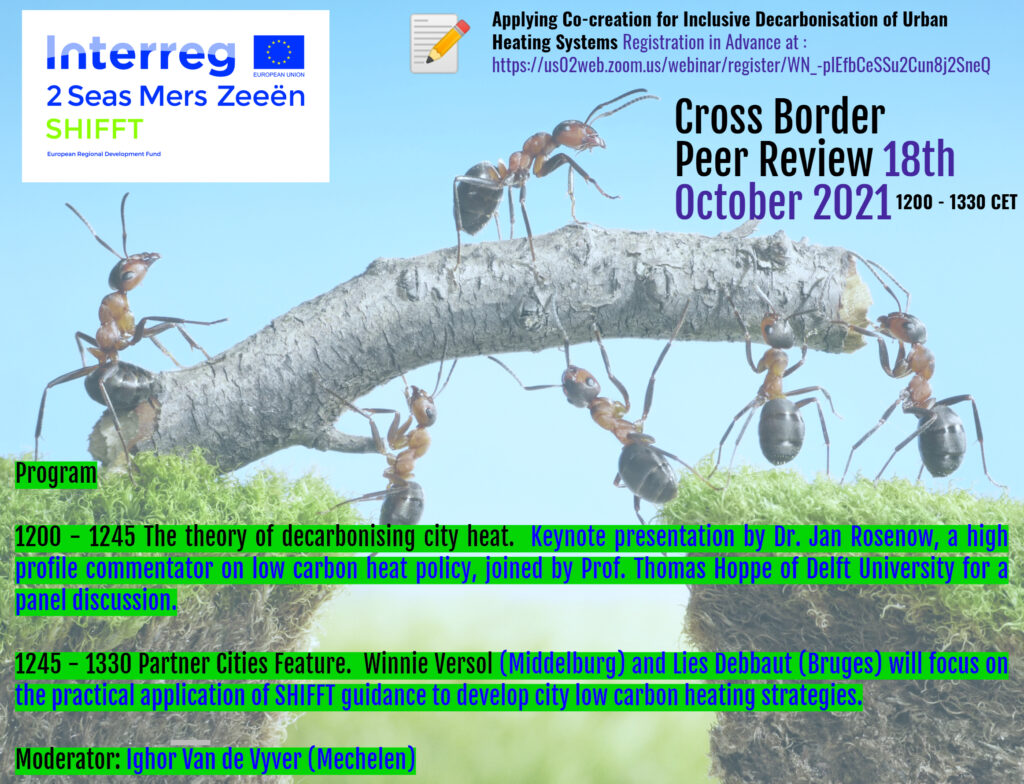 Applying Co-creation for Inclusive Decarbonisation of Urban Heat Systems
The 'SHIFFT' (Sustainable Heat: Implementation of Fossil Free Technologies) Project invites you to participate in an interactive cross-border workshop to disseminate progress and receive feedback on our approach to the development of city heat strategies.
We will employ a 'fish bowl' style online event, with two sessions of 45 minutes each, running consecutively. Each session consists of two speakers with a moderator.
The panel consists of:
1. Guest speaker
– Jan Rosenow (Principal and European Programme Director, Regulatory Assistance Project)
2. SHIFFT personnel
– Winnie Versol (SHIFFT Coordinator, Gemeente Middelburg)
– Lies Debbaut (SHIFFT Coordinator, Stad Brugge)
– Prof. Thomas Hoppe (SHIFFT Co-creation Work Package Leader, TU Delft)
– Prof. Peter Connor (SHIFFT Project Lead, University of Exeter)
– Ighor Van de Vyver (Moderator & Work Package 1 Leader, Stad Mechelen)
Session 1 considers the role of cities in the heat element of the energy transition. It will draw on the SHIFFT project's theoretical work to support the development of practical advice for cities. The session will open with our guest speaker's presentation, they will then be joined by SHIFFT knowledge partner lead, Prof. Thomas Hoppe.
Session 2 discusses the approach taken by SHIFFT in supporting cities in developing an applied approach to devising a heat strategy. The speakers for this session will be the SHIFFT coordinators for the cities of Bruges (BE) and Middelburg (NL).
Our goal is to inform attendees as to our work on the SHIFFT general guidance and its testing in situ, as well as gain feedback from the attendees. We also wish to further raise the profile of our work amongst our potential users: local governments, citizens and businesses alike.
We welcome all stakeholders concerned with decarbonising our cities and towns.