Sustainable heat: how can social housing organisations be involved?
CD2E leads a co-creation project to install sustainable heat in the form of solar thermal in collective social housing in Northern France. Appetite from Social Housing Organisations (SHOs) has proven low so far. Out of the 8 organisations we aim to collaborate with, only one has been confirmed to participate so far. Individual outreach via email and phone calls has not been a great success.
We have therefore pivoted to other forms of outreach aiming to secure involvement: a webinar was held in December of 2020 to present what forms of support and subsidies exist for them, specifically in the field of sustainable heat. Whilst significant interest was expressed during that meeting, it only led to one concrete project. We knew that the mere existence of subsidies and support schemes were not enough to create projects ex nihilo; it seems increasing SHOs' knowledge is necessary but not sufficient. Offering help in getting projects off the ground was not sufficiently motivating either.
Since then, CD2E has taken on a new approach to working with SHOs. Several of our actions (beyond heating) focus on social housing, so our team members got together to move to the next level. Our existing offers, be they in sustainable heating or elsewhere, were not generating enough projects. We decided to start at the bottom: to listen to SHO's needs and better understand what was lacking. Capitalising on existing ties between CD2E and SHOs, we invited a handful of them to a series of two bottom-up workshops in June. Below are two pictures from those workshops:
When you're in a bind, it helps to create links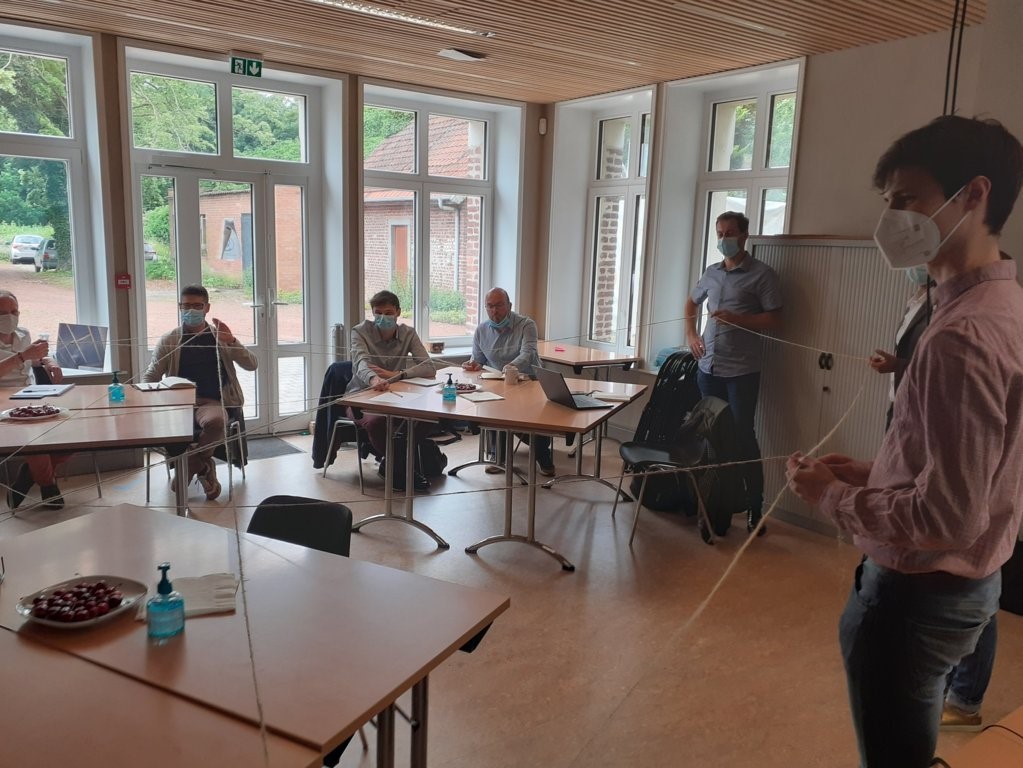 An ideal housing project according to participants, and an ideal drawing too!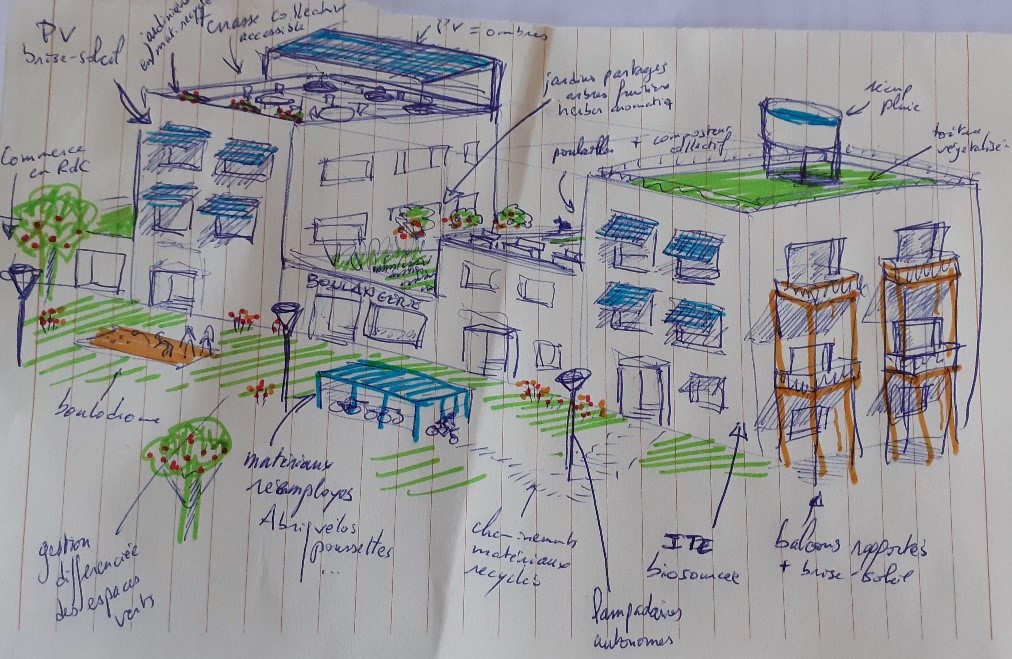 Regarding sustainable heat, the main lesson was that appetite exists; what lacks is a spark, a call to action. It was thus decided to issue a call for applications providing a clear structure and vision of the perks. It was wholeheartedly supported by the French national authority ADEME, e-mailed to key employees of each relevant SHO and mailed to their directions. This proved to be a success: three applications were received. Should all renovation or construction projects they mention be realised, over 1 300 households could be equipped with solar thermal panels. This is a great success for one call to applications over the summer holidays.
Besides, two other SHOs signalled interest thanks to SHIFFT partner Ville de Fourmies; collaboration with them is to be explored separately very soon.
It seems social housing organisations are willing to participate in sustainable housing projects given the right structure. For CD2E, what seems to be making a difference in generating their interest has been providing a formal context, with a clear structure, obvious benefits, and few drawbacks. Sustainable heat is a relatively well-established field, with years of experience. French authority ADEME has significant subsidies in place while CD2E provides concrete on-the ground expertise, supported by funding from ADEME and SHIFFT. With all these elements in place, what was lacking was adequately communicating the opportunity to social housing organisations. This required not just words, but also familiarity, trust, collaboration with authorities, and a formal framework.